Guidance of exhibition
Introduction of Business Matching Meeting
FBC Bangkok is the International Exhibition and Business Matching Platform for manufacturing companies to find new suppliers, customers or partners in Thailand, joined by many Japanese and related Japanese companies and Thai local companies who wish to expand the market for their own products, display the products they want to buy/sell and do business meetings with other companies.
[Feature]
1.High accuracy match making
Organizer will provide business meeting time schedule to exhibitors based on exhibitors and visitors demands before event.
2. Business meeting with each ASEAN countries
The event will be co-branding with SUBCON Thailand 2020 that co-located with INTERMACH & MTA which has 57,640 visitors in 2019 (INTERMACH & MTA: 38,595 + SUBCON Thailand 19,045 visitors).
Exhibitors profile
Manufacturing companies
Manufacturers who wish to procure parts or expand market in Thailand.
・Processing products by themselves
・Mainly B to B business
Steel product, Automotive and Rail way, Shipbuilding product, General and Electric machine appliance, Information & communication equipment, Electronic parts, Fiber, Chemical products, Plastic and Rubber products, Oil and Coal products, Ceramics, OEM, Subcontractor etc.
Service providers
Non-manufacturing companies that are providing services to manufacturing companies
Trading (Parts / Product processing), IT (Software), Recruiting, Logistic, Real Estate, others
Can not exhibit in FBC Bangkok / Notes on display size & demonstration
■Can not exhibit in FBC Bangkok
Machine tool, Robot demonstration →Recommend to exhibit in INTERMACH
Event Hall
FBC Bangkok 2020 is combining in INTERMACH (BITEC, Bangna).
INTERMACH has subset exhibitions as following diagram.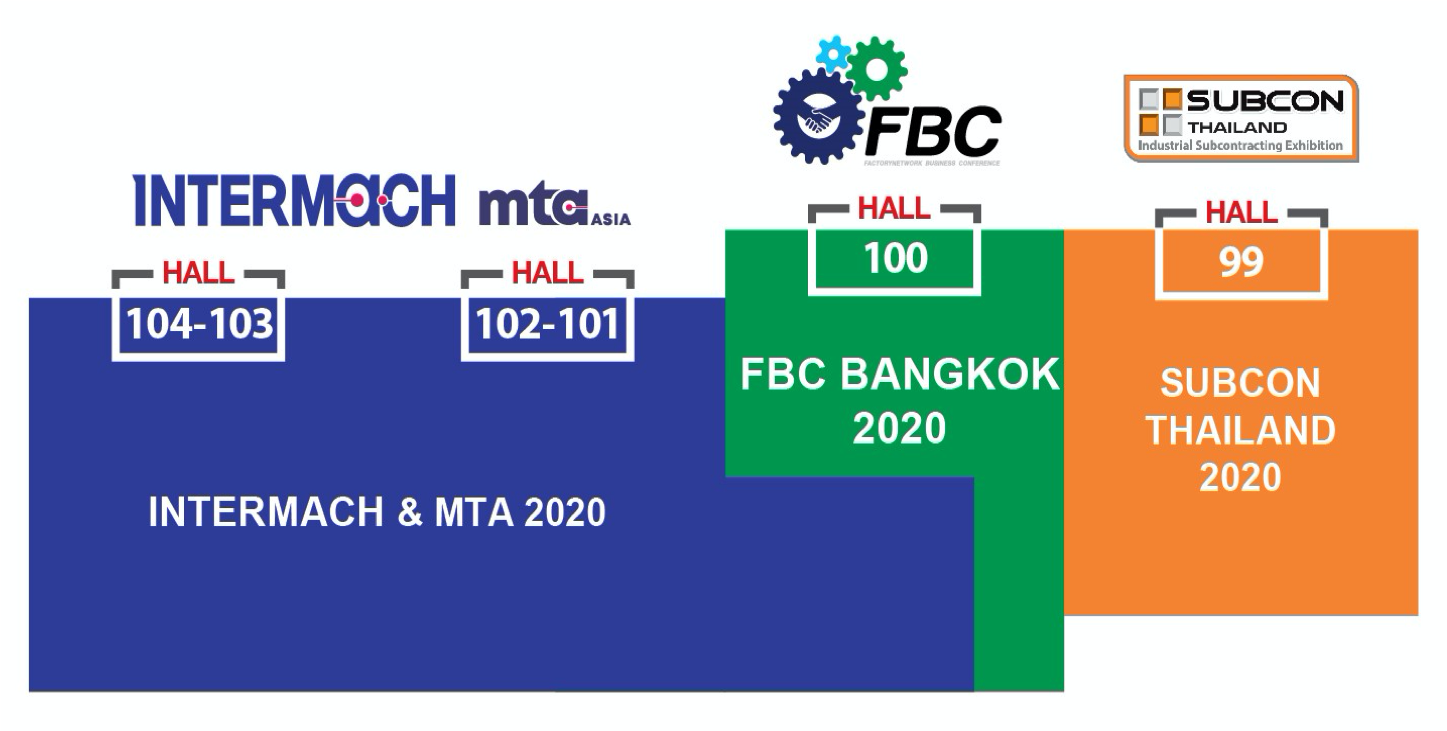 Floor layout
Exhibiting Area
Exhibition Booth image
【Booth Package 】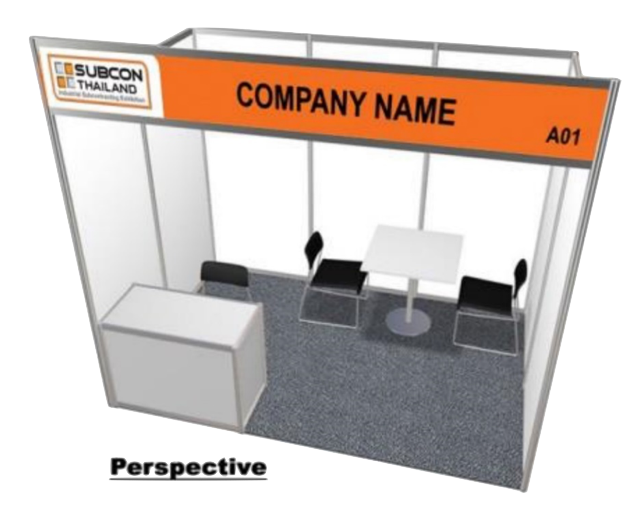 Standard Booth
Size
6 ㎡(W 3.0m × D 2.0m × H 2.4m)
Price
THB / Excluded VAT
Companies in Thailand:55,800
Companies in Foreign Countries:84,000
Booth equipment
① Needle Punch (Carpet) ⑤ Lights*2
② Square Table*1 ⑥ Socket Point 5A 220V*1
③ Plastic Chairs*3 ⑦ Trash Box*1
④ Information Desk*1
Raw Space
Size
24 ㎡〜 (12㎡ unit)
Price
THB / Excluded VAT
Companies in Thailand:163,200 〜 (6,800 THB/㎡)
Companies in Foreign Countries:276,000 〜(11,500 THB/㎡)
*Companies in Thailand also include a Japanese company that registered in Thailand.
【Booth Package for Buyer】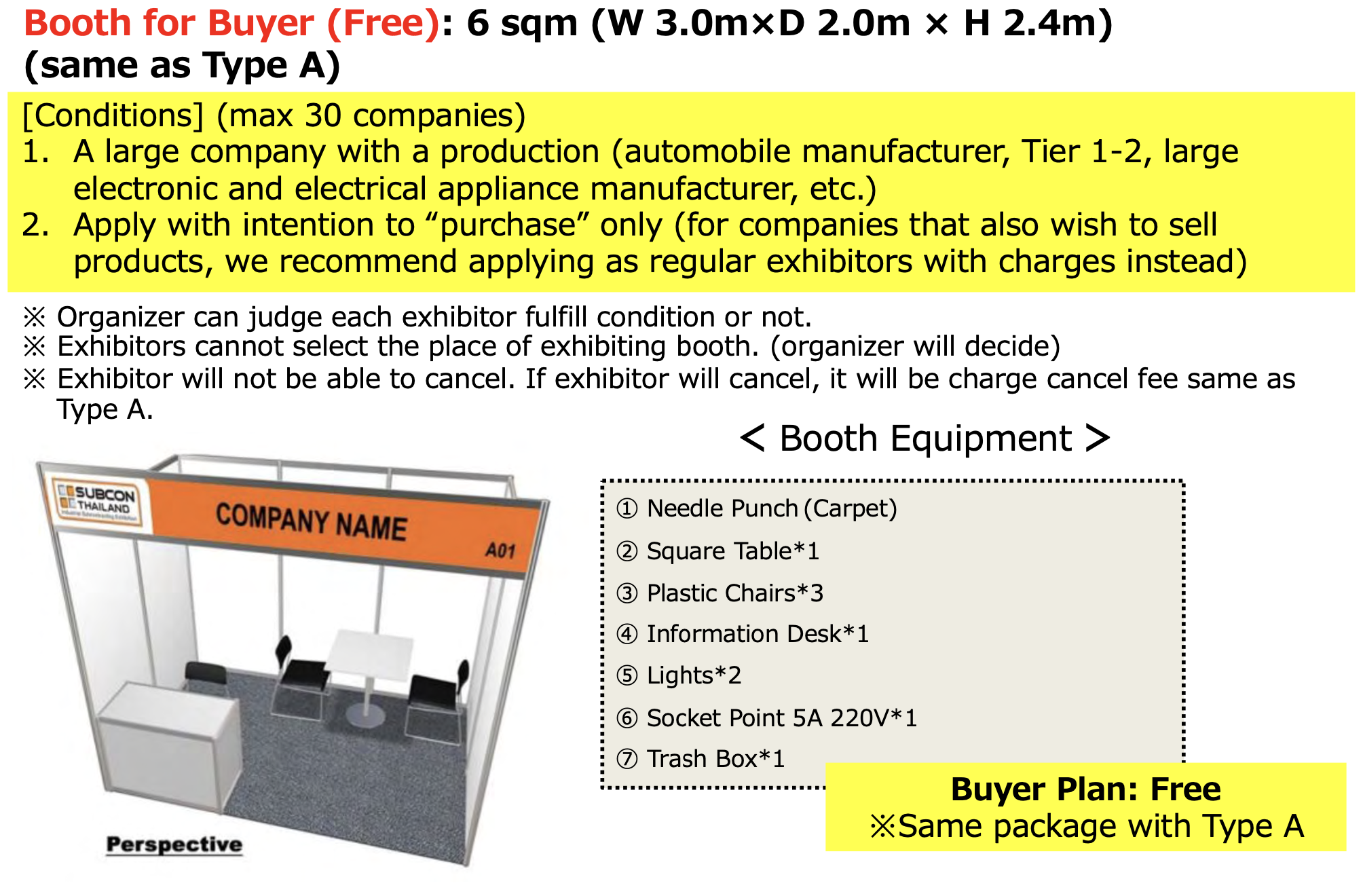 Exhibiting Fees
Exhibiting Price Table:
(THB)
Type
Standard Price
(Normal)
Choosing Location
Option
Companies in Thailand
Type A
Standard Booth
55,800
+10,000
Type B
Raw Space (24 ㎡〜)
163,200〜
Include
Companies in Foreign Countries
Type A
Standard Booth
84,000
+10,000
Type B
Raw Space (24 ㎡〜)
276,000〜
Include
Exhibiting Fee Payment
This exhibiting fee and option cost will be all calculated in
Thai Baht
.
Exhibitors can pay in Thai Baht and Japanese Yen.
Please choose the desired currency in column "Payment" in the application form.
Invoice will be issued in 14 days after application date.
Payment term is within 14 days after invoice issued date.
◆Pay in Thai Baht:
Invoice will be issued by Factory Network Asia(Thailand) Co., Ltd.
◆Pay in Japanese Yen:
Invoice will be issued by NC Network.
In case of payment by JPY, please use the following calculation method:
(Exhibiting fee + VAT 7%) * TTS rate + Administrative fee 5% = JPY price. (round off 10 JPY)
※Will be applied TTS rate of Bank of Tokyo Mitsubishi UFJ for calculating
※All remittance charges will be on exhibitors (Please select OUR and write "Pay in full" in remark on remittance slip)
Business Matching Plan
Activity Flow
Matching will be done between exhibitors & exhibitors and exhibitors & visitors before the event.
Organizer will distribute each exhibitors business matching meeting time schedule before event.
1 business meeting = 30 minutes (with 15-minute break)
There are 10 meeting slots/day = maximum 30 slots for entire event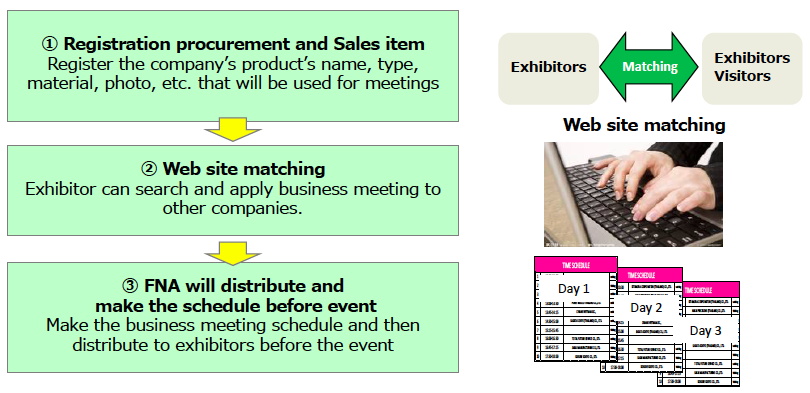 Promotion for Exhibitors
Publish information on FBC Bangkok website

Publish information in FBC Bangkok guidebook
Publication Date: Middle of April 2020, Number of Volume: 20,000


The information in this special issued will be viewed by many interested buyers.

Introduction for Option
Charged Option
Mailing Fee for Guidebook
FNA will issue the guide book about exhibitors' company information. Delivery in Thailand is free. In case that exhibitors wish us sending the guide book to other country outside Thailand, it will cost 1,000 THB + VAT. If exhibitors wish to order guide book from outside Thailand, please apply in "Mailing Fee for Guidebook" option in application form.

Added Option (such as Rental)
Rental, interpreter, audio and other service will be charged additionally. Optional service charge is all in Thai Baht. Charged option in detail information will be informed in Exhibitors Manual.
Exhibitor's Option 1 (Promotion Plan)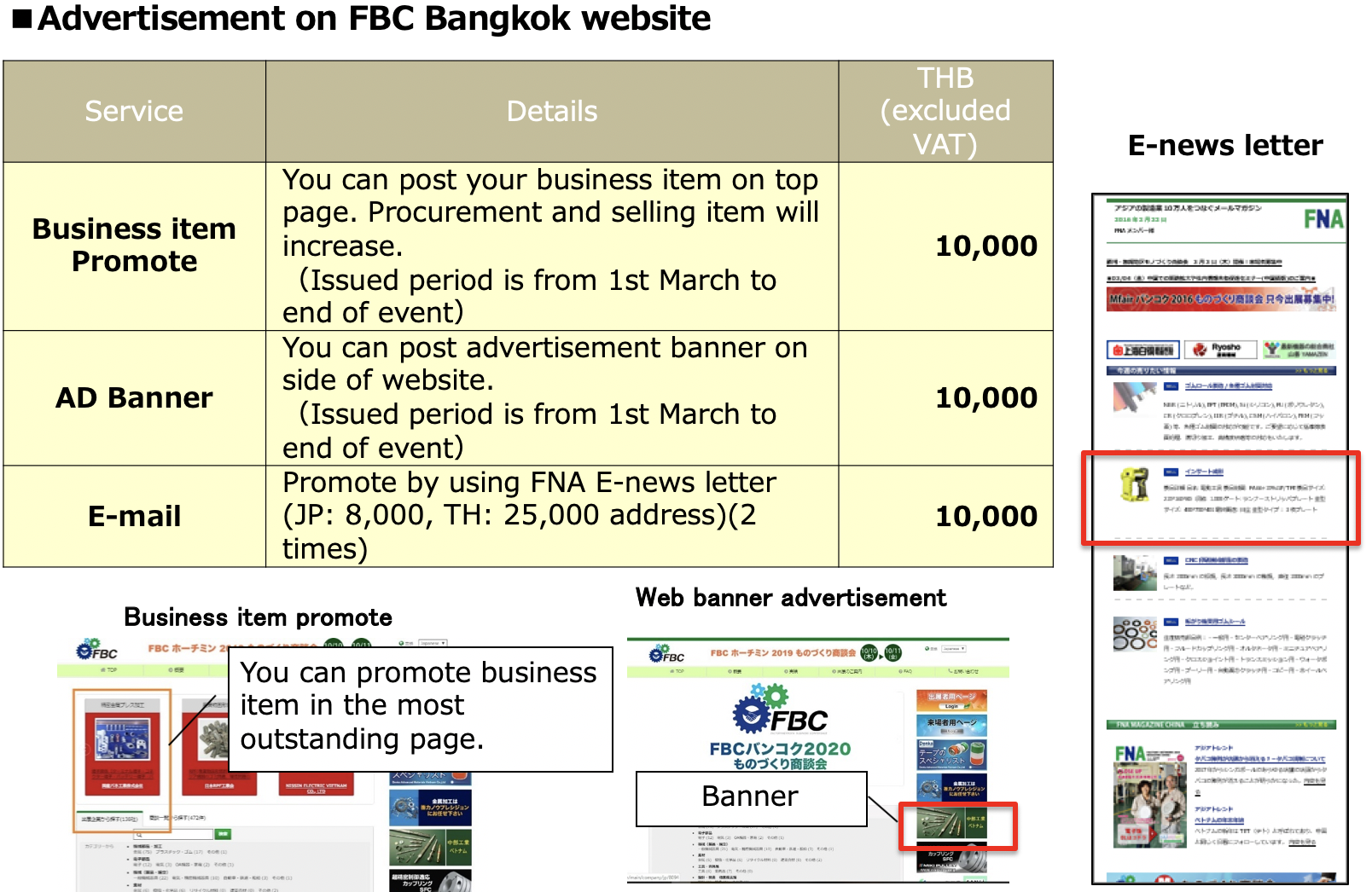 Exhibitor's Option 2 (FNA U-Machine Magazine)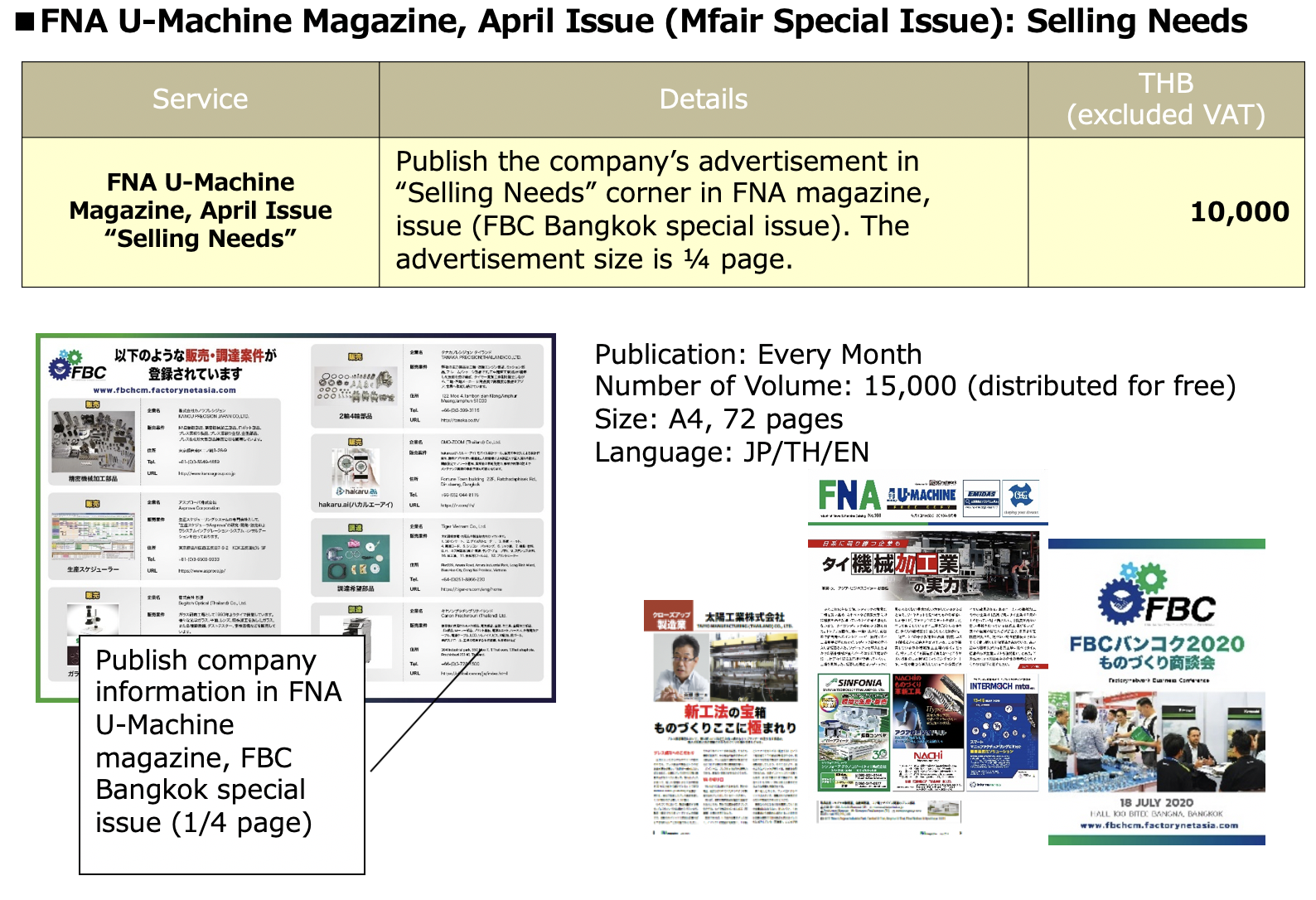 Exhibitor's Option 3 (AD package)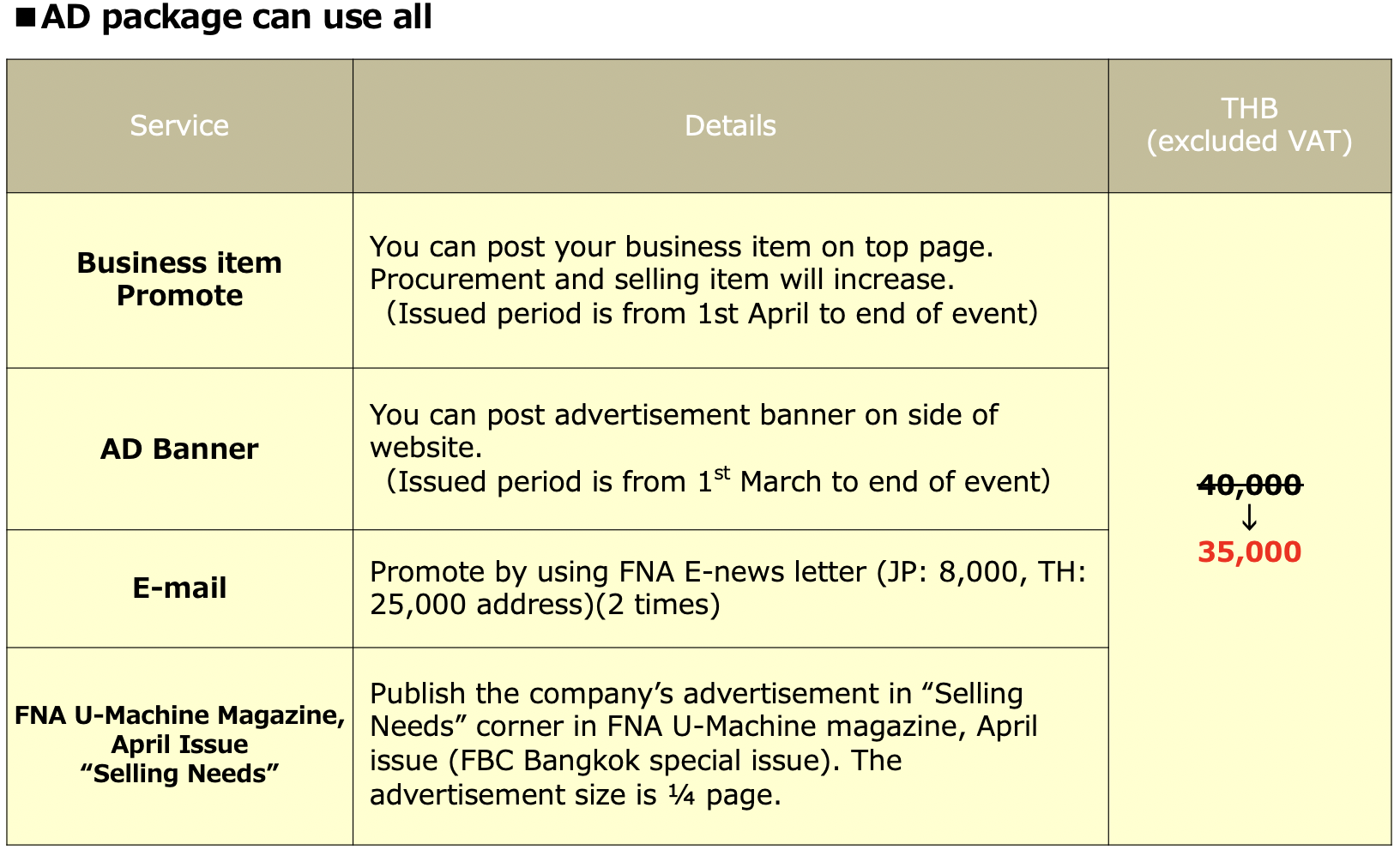 Others
Hotel
Exhibitors will book hotels by themself. FNA will provide recommend hotel in Bangkok.
Transportation
You can take BTS (train) or taxi to the venue. FNA will provide venue map before event.
Bangkok International Trade & Exhibition Centre(BITEC)
88 Bangna-Trad Road (Km.1), Bangna, Bangkok
http://www.bitec.co.th/default-en.html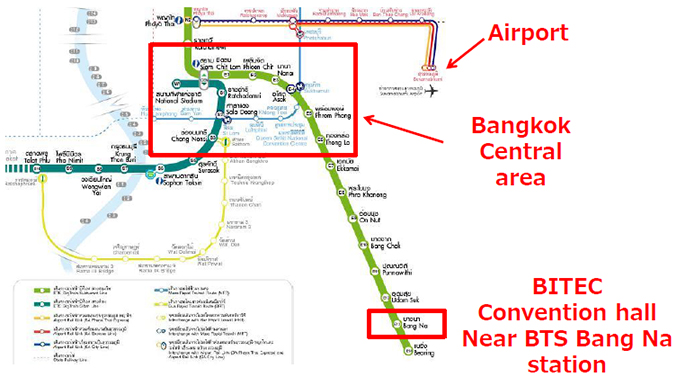 Contact
■ Dead line of exhibiting application
14 Febrary 2020 (Fri)
■ How to Apply
Please register essential information item in the "FBC Bangkok 2020 Application Form"
thai_fbc@factorynetasia.com
(Please send excel data and PDF which has signature or company seal)
FACTORY NETWORK ASIA (THAILAND) CO., LTD.
FBC Bangkok Team (Language: JP/EN/TH)
Tel: +66-
2-254-1801-2
/ E-mail:
thai_fbc@factorynetasia.com